How to use this course - aka the stages of learning
Hello and welcome to Helm!
You're here to learn more about leadership. I'm here to teach you. I'm not one to waste time, so we're going to launch straight into things. First, let's talk about learning, specifically how people learn and apply skills. I'll be using Bloom's taxonomy to explain this concept: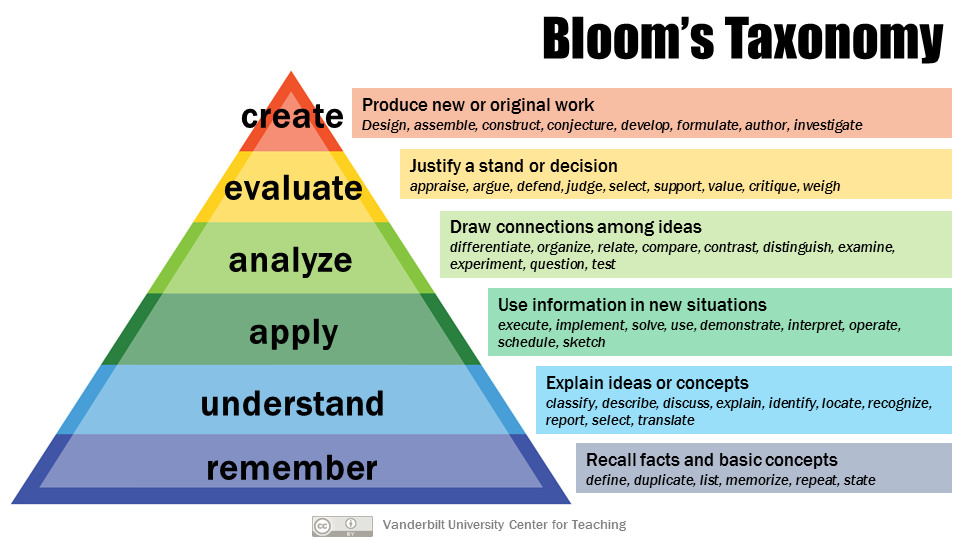 Each level in the pyramid is harder to obtain, and requires more effort as a student to get there. It's my job as teacher here to give you the most opportunity to move up this pyramid I can, in all things leadership.
That is why this course is broken up into bite sized modules, so you can remember and understand them each in turn.
Where I can, I'll provide examples of the concept in action, so you can see how it has been applied by others. I'll provide exercises you can use to hone your understanding of the concept, apply it in real life and evaluate the success of your application of it.
I'll provide likely interview questions that an interviewer might use to judge your experience and understanding of the concept. That will help you understand how others would analyse your skill. You can mock answer these in your own time to reflect upon your own learning and application of the concept to date.
I'll provide further reading and recommendations, if applicable, so you can continue deeper into your understanding of a particular topic if you'd like to.
I also provide a safe space for you to ask questions. We have a slack community you will automatically receive an invite to once you sign up for any version of the course. As you go through your learning journey, it's a safe space where you can ask questions, meet other engineering leaders and learn more from others. See you there, and feel free to introduce yourself in the introductions channel!
What does all of this mean for you? Well, if you want to just watch or read the modules, you can do that, but you won't likely be able to apply the key concepts when you need them. On the other hand, doing all the exercises and extra reading might take you longer than a week for some modules. Having said that, it's worth the effort.
The further up this pyramid you can make it on every topic we cover, the better. There is an option to learn alongside a cohort we provide you. This further improves your chances of levelling up your leadership skills. A cohort means a group of people with a shared trait, in this case you would all start this course at the same time, together.
The cohort provides you with a group of peers that we match you with. You watch or read some of the course content, meet weekly to discuss it and your experiences across different organisations. Ideally your group would later pair or mob on implementing the exercises and in doing so reach the "create" stage of the pyramid together.
If you haven't already signed up for a cohort place via our website, just reach out to us at [email protected].
There is one more thing we can provide you with too. You can find a coach willing to run through this content with you regularly via our network one on one. If that's something you're interested in again just reach out to us at [email protected].
To summarise, my job in this course is to:
Introduce a concept, and remove unknown unknowns.
Push you as far up the pyramid of Blooms taxonomy as I can get you.
That's it! Ready to get started? Here are some more freebie modules to help you understand just how high the quality bar is in this course. Let's get cooking!
Complete and Continue